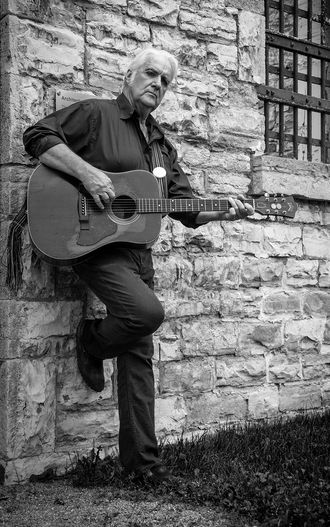 dennis came of age in the last days of the once thriving County & Western scene in South Central Ontario, when every small town had at least one venue for live music, many offering six nights a week with a Saturday matinee. Although most directly influenced by the singer/songwriters of the 'folk boom' of the 60s, he developed and adapted his own mantra of 'songs I wrote or wished I had'  to suit the situation, realizing that raw emotion was the only vehicle that would see him through the turbulent honky- tonk scene, whether on his own or with an assortment of talented, if somewhat out of place musicians. Raw emotion, and a keen eye for the human condition, along with a repertoire of classic ballads helped form the perspective that saw him evolve into the seasoned performer that he is today. 
   dennis has spent much of his adult life in the field of 'human services' in variety of positions, and this work has informed his writing and honed his perspective on the 'human condition' as well; as he sings in the title tune of his 2009 release 'The Brave Work'...  
' out here in the 'trenches'; you don't fix it with wrenches 
guns and knives and syringes… they just don't get it done 
lay your heart on the line, time after time, after time… 
when it's bruised and bleeding; you'll know you've begun… 
with the 'brave work'… it's not for the faint hearted… 
it's the 'brave work'… roll up your sleeves, let's get started; 
with the brave work… '
dennis turns a keen eye on events south of the border in his current release 'Lone Gunman at the Assassin's Hotel' in both title tracks. This, from 'Lone Gunman'…  
        'anywhere in America… haunts the ghost of a beautiful dream…  
         anywhere in America… you see it coming apart at the seams…  
         there's a lone gunman in the shadows, trembling with wicked rage  
         stepping from the wings, suddenly he's centre stage…  
         he knows he's going to be on the late news and the front page;  
         and he looks like you and me and he could be  
         anywhere in America, tonight…'
    In his surrealistic panorama of 'Assassin's Hotel'; Jesse James' killer Robert Ford greets modern day assassin of John Lennon, Mark David Chapman at the door of the 'Assassin's Hotel' (in Hell) with: 
        ' welcome, Mark!… you'll see… it's a measure of our infamy that we 
          could be condemned to replay this tableaux time and time again… 
          now, every day at three for eternity; you'll join me on yon gallows tree… 
          and we'll take out turns. twisting in the wind...'
   In reference to our own sad situation here in Canada of 'missing and murdered Indigenous women' (MMIW) that has been the subject of recent federal inquiry, O'Toole's tune 'Red River Blues' cuts close to the bone in the indictment of neglect and indifference to the plight of First Nations people… 
        'I sense a choir of voices falling on deaf ears… 
          an oh, so distant drumbeat; a new 'trail of tears'… 
           a highway of heartache cutting through the land 
            broken promises sifting through empty hands 
             some lost to 'herstory' but for DNA 
              and no one looking for them anyway… 
               what would you do? ...what would you do? 
                If they were 'blood' to you? '
This is not 'easy listening' folk music, though there are ballads of love lost and found; and the tenacity of the human heart aplenty. Echoes of Phil Ochs' topical songs from the heyday of the 'Protest Movement' as well as heartfelt ballads and homage to some of the great Canadian performers 'gone on' (such as the late greats Willie Dunn, Willie P. Bennett, Ron Hynes, and Buzz 'Mr. Soul' Thompson) flesh out the current repertoire; all delivered in a well worn and stronger than ever voice. The songs, most often accompanied by cousin Michael P. O'Toole on acoustic lead guitar provide a varied and engaging program of real folk music, the kind so many of us were fortunate to grow up (and old) on. Strong writing and delivery, raw emotion honed to a keen edge. This introductory missive could include lots of quotes from more famous friends and associates; but perhaps a simple one from Gary Peeples, founding member of Jackson Delta, Canada's long standing blues trio will suffice: 
                      "You, my friend; are the envy of all who appreciate the work of a poet" 
dennis O'Toole, singer/songwriter; poet at large is available for all concert venues, and particularly interested in making 'music that matters'. Please don't hesitate to reach out for participation in benefit causes. www.dennisotoole.ca as well as 'Dennis O'Toole-Agoraphobic Folk' on Facebook.  Love to all, d.